Who We Are?
We, Technokem Construction Chemicals, are a manufacturer, trader and service provider, serving in the Construction Industry to benefit all types and sizes of companies in getting the best solutions for their buildings.
We are rendering Building Construction Chemicals, Building Flooring Systems, Protective Coating Services, Repairs And Rehabilitation Services and a variety of other products and services for maintaining the structure and finish of buildings.
The head office of our business establishment is located in Australia, but we have also successfully settled in India by bringing forth the best products and services to Indian clients. We have a skilled and experienced team of experts at our company, who ensure production of the best products and delivery of the same within committed time frame.
We believe there suitable pricing along with the factor of timely delivery that helps company gain recognition. So, we along with rendering timely delivery service are keeping prices of our products low. Being a customer benefitting company, we are ensuring our products reaches in the safest manner to customers. Also, we are ensuring our array of services is rendered in a personalized manner to all customers.
The strength of our experts lies in making the best use of latest technology and supreme quality materials for making a tailor made line of chemicals as per buyers wants. Giving attention to market demands and expanding network as our focus areas, we have proudly developed a new manufacturing unit for producing construction chemicals in Gujarat (India).
What Makes Us Different?
Trust: We have earned customers trust in no time with our honest communication and business relation.
Integrity & Ethics: We perform every activity in the right manner and ensure all customers are treated equally at our company.
Innovation: We work with the motive improvising our product line and dealing ways so as to render complete satisfaction to our customers.
Passion & Commitment: We are passionate of staying true to our promise of serving cost-effective solutions to customers.
Why Technokem?
We at Technokem Construction Chemicals are dedicated to serving quality based Pillar Grouts And Anchors, Adhesives and related products after thorough quality checks. Also, we are committed to make available highly economical line of products as well as services that give lasting benefit to customers.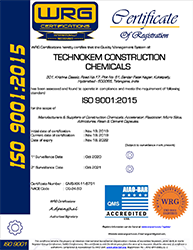 Read More